Mary Ellen Mark Inspiration and Iconic Photographer
COUNTRY OF BIRTH
United States
INDUSTRY
Photography
TOP ACHIEVEMENTS
One of the 20th Century's Greatest Photographers
Mary Mark Allen is one of the most respected and well known photographers
of our generation. She has attained notoriety through countless exhibitions, books, and magazine appearances, appearing in The New York Times Magazine, LIFE, The New Yorker, TIME, Rolling Stone, and Vanity Fair. From an early age she travelled the world documenting what she saw in black and white.In 1965 Mark Allen received a Fulbright Scholarship to photograph in Turkey for a year. While there she took one of her most famous images, Street Child, which she later credited as being the photo that made her. The following year she moved to New York, where she developed her own individual style. She photographed the Vietnam War demonstrations, the woman's liberation movement and Time Square, along with transvestites and prostitutes. Her focus on people on the fringes of society would go on to become her trademark.
Champion for Society's Most Vulnerable
The subject of Mary Mark Allen's award-winning photography was regularly prostitutes and children of the streets. Over three trips to India, starting in 1968, she documented the work of Mother Teresa with the prostitutes of Bombay. She published her work in two highly acclaimed books in 1981 and 1985, titled 'Falkland Road' and 'Photographs of Mother Teresa's Missions of Charity in Calcutta'. In 1982 Mark produced an inspiring piece for Life magazine that followed runaway children living on the streets of Seattle. This work spawned the making of the documentary film Streetwise in 1984.In 1976 Mark Allen undertook one of her most famous projects. She lived in a high-security women's ward at the Oregon State Hospital for two months to document the lives of the mentally ill women that were confined to the ward. Her black and white book Ward 81 (1979), received critical acclaim for her objective and compassionate portrayal of these woman.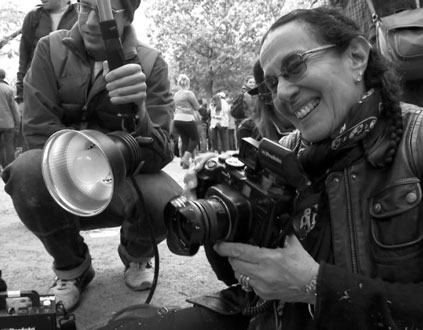 Mary Mark Allen By: Waterjunebug (Own work) [CC BY-SA 4.0 (http://creativecommons.org/licenses/by-sa/4.0)], via Wikimedia Commons
---
"I'm just interested in people on the edges. I feel an affinity for people who haven't had the best breaks in society. What I want to do more than anything is acknowledge their existence".
Respected Film Industry Photographer
She established herself as a photographer on film sets during the late 1960s and 1970s. She initially worked on 'Alice's Restaurant', 'Carnal Knowledge', 'Catch 22', and most famously Francis Ford Coppola's 'Apocalypse Now'. She has worked on over 100 movie sets, the most recent being Baz Luhrmann's Australia in 2008. In 1992 she was a writer and Associate Producer for the film American Heart, directed by her husband, Martin Bell.
Career Distinctions
Mary Mark Allen has earned widespread industry recognition throughout her distinguished career. This included the 'Lifetime Achievement in Photography Award' from George Eastman House and the 'Outstanding Contribution to Photography Award' from the
World Photography Organization
, both in 2014. Earlier in her career she received three grants from the National Endowment for the Arts – in 1977, 1980 and 1990. In 1997 she was awarded the 'Infinity Award' for photojournalism, and the 'Cornell Capa Award' in 2001, from the International Center of Photography.
ADDITIONAL FACTS
Born on March 20, 1940
Married to film producer Martin Bell
Has been awarded five honorary degrees from four different US universities
Has had 16 collections of her work published